Kutaisi and Eastern Georgia Tour
Day 01: Arrival in Kutaisi
Meeting at Kutaisi air port and transfer to Tbilisi. Check in at the hotel. Tbilisi city tour.
Walking tour in famous Sulfuric Baths district, (Abanotubani) and Legvtakhevi waterfall, visit Metekhi church (12th Century) and Narikala fortress, (4th Century) panoramic view of the city from the hill where located monument mother of Georgia. ( Kartlis deda) Visit national museum of Georgia and main avenue, Rustaveli. Overnight in Tbilisi.
Day 02: Kakheti Region
Kakheti located in Eastern part of Georgia and it is known as the region of the wine. Unique and award winning Georgian wines and brandie are produced here. The earliest archaeological evidence of wine production yet found has been at sites in Georgia  6000 C. BC. Visit the Monastery of St. Nino at Bodbe,(6th Century) and Sighnaghi, city of the love. After Sighnaghi we will stop at the local family, for wine tour, in Gujaani town. Visit local family winery, degustation of family, red and white wines, produced with Georgian KVEVRI traditions and homemade vodka CHACHA. Continue our way to Gremi monastery complex (16th Century) and Lord Alexander Chavchavadze palace in Tsinandali village. Overnight in Tbilisi.
Day 03: Mckheta - Kazbegi
We drive to visit the ancient capital and religious centre of Georgia – Mtskheta (3000 years old) and see its historical places: Jvari church (6th century) and Svetitskhoveli Cathedral (11th century) where the Robe of Christ is buried. Both Jvari and Svetitskhoveli are UNESCO World Heritage sites. On the way visit Ananuri architectural complex (17th century), the two churches and the fortress overlook the Zhinvali water reservoir. Arrival in Kazbegi town, jeep tour to Gergeti Trinity Church (13th Century) located at 2175m. walking tour to visit Gveleti waterfalls. Drive back to Tbilisi. Overnight in Tbilisi.
Day 04: Gori - Ufliscikhe - Akhalcikhe
After the breakfast drive to visit Gori, The city where was born Joseph Stalin. Here we will make a visit to Museum of Joseph Stalin. Then we go to visit Uplistsikhe ("Lord's fortress"), an ancient town built in a rock, dating from II ML BC to the Middle Ages. Afterwards drive to South-Western part of Georgia. Arrive in Akhaltsikhe. Visit multicultural complex of Rabat. Overnight at a hotel in Akhaltsikhe.
Day 05: Akhalcikhe - Vardzia - Akhalcikhe
After breakfast, drive to Vardzia, hewn in the stone town. (XII-XIII c.c). cave town of the Golden Age. The cave complex stretching over half a kilometer once consisted of some 3000 caves and was one of the best examples of Georgia's renaissance. The complex has a substantial role in political, educational, cultural and moral life of Georgia. Also, temple of Assumption, furnished with murals, is placed in the centre of the complex.
Day 06: Akhalcikhe - Kutaisi - Batumi
After the breakfast drive to Kutaisi, (more than 3000 years old) the capital of antique kingdom of the Colchis in the II millennium BC, as the archaeological facts indicates. It is considered by historians, that Kutaisi was the residency of King Aeëtes and the last destination of Argonauts, during their fabled journey to Colchis. Kutaisi city tour. The tour contains following: visiting Bagrati Temple(11th century) Gelati Church, (12th century) which is also in UNESCO's heritage; Sataplia cave. After Kutaisi travel to the Black seacoast to Batumi, the most beautiful city of Georgia. Overnight in Batumi.
Day 07: Batumi city Tour
After breakfast Batumi city tour. Visit: Ali and Nino Statue, Statue of Medea, reminds visitors myth about Colchis and the Golden Fleece; Apollo Statue makes the city more interesting. Walk across the shore in Batumi Boulevard. Free evening in Batumi, leisure. Overnight in Batumi.
Day 08: Departure
Check out and transfer to Kutaisi air port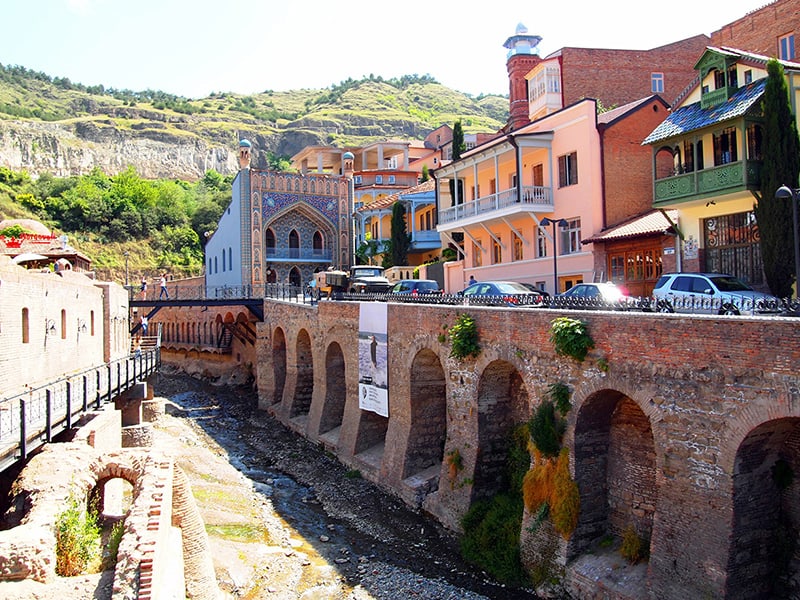 Ready for an adventure?
Your dream trip awaits to explore these captivating lands. Our dedicated and skillful specialists are here to provide you with the very best travel services.