Day 01: Arrival in Tbilisi, Tbilisi City Tour
Meeting at the air port and transfer to the hotel.
Tbilisi city tour. Walking tour in famous Sulfuric Baths district, (Abanotubani) and Legvtakhevi Waterfall, visit Metekhi church (12th Century) and Narikala fortress, (4th Century) panoramic view of the city from the hill where located monument mother of Georgia. ( Kartlis deda) Visit national museum of Georgia and main avenue, Rustaveli. Overnight in Tbilisi.
Day 02: Tbilisi - Mckheta - Kazbegi - Tbilisi
We drive to visit the ancient capital and religious centre of Georgia – Mtskheta (3000 years old) and see its historical places: Jvari church (6th century) and Svetitskhoveli Cathedral (11th century) where the Robe of Christ is buried. Both Jvari and Svetitskhoveli are UNESCO World Heritage sites. On the way visit Ananuri architectural complex (17th century), the two churches and the fortress overlook the Zhinvali water reservoir. Arrival in Kazbegi town, jeep tour to Gergeti Trinity Church (13th Century) located at 2175m. walking tour to visit Gveleti waterfalls. Drive back to Tbilisi. Overnight in Tbilisi.
Day 03: Tbilisi - Gori - Ufliscikhe - Tbilisi
After the breakfast drive to visit Gori, The city where was born Joseph Stalin. Here we will make a visit to Museum of Joseph Stalin.Then we go to visit Uplistsikhe ("Lord's fortress"), an ancient town built in a rock, dating from II ML BC to the Middle Ages. Then continue way to Kutaisi, (more than 3000 years old) the capital of antique kingdom of the Colchis in the II millennium BC, as the archaeological facts indicates. It is considered by historians, that Kutaisi was the residency of King Aeëtes and the last destination of Argonauts, during their fabled journey to Colchis. Overnight in Kutaisi.
Day 04: Tbilisi - David Gareja - Sighnaghi
Visit David Gareji cave complex (UNESCO heritage) located in a stark, semi-desert landscape. The complex was founded in the 6th century by David (St. David Garejeli), one of the thirteen Assyrian monks who arrived in the country at the same time. First we see Lavra Monastery and then walk up about 1 hour to Udabno monastery to enjoy its wonderful painted caves and dramatic views across to Azerbaijan. After visit the Monastery of St. Nino at Bodbe,(6th Century) and Sighnaghi, (18th Century) city of the love. The town preserved its original image and now offers visitors stunning views of the surrounding Caucasus Mountains. Overnight in Sighnaghi.
Day 05: Sighnaghi - Gremi - Tsinandali - Tbilisi
After the breakfast we continue our tour to kakheti region. is known as the region of the wine. Unique and award winning Georgian wines and brandie are produced here. The earliest archaeological evidence of wine production yet found has been at sites in Georgia 6000 C. BC. we will stop at the local family, for wine tour, in Gujaani town. Visit local family winery, degustation of family, red and white wines, produced with Georgian KVEVRI traditions and homemade vodka CHACHA. Continue our way to Gremi monastery complex (16th Century) and Lord Alexander Chavchavadze palace in Tsinandali village. Overnight in Tbilisi.
Day 06: Georgia – Armenia – Haghpat – Sanahin – Dilijan
After breakfast – check-out and drive to Armenia. Meeting at Georgia-Armenia border at Sadakhlo around 12:00 Noon. After passport and customs formalities – proceed to Armenia. Monastery Complex of Haghpat (UNESCO World Heritage). The construction of this monastery is associated to the glory of the Bagratouni Royal Family. The oldest structure of the monastery was built in 977-991 and was called the Holy Cross church. Holy water fills the small pool in the church. Monastery Complex of Sanahin (UNESCO World Heritage). Sanahin is a monastery complex the most prominent structure of which is the Savor's Church (956-967), built by architect Trdat for princes Gourgen and Smbat from the Kyurikian Kingdom. The eastern part of the church holds a bas-relief depicting the two princes holding the miniature copy of the actual church. The former village of Sanahin is located on the right side of the gorge. It has become a part of the town of Alaverdi. overnight in Dilijan.
Day 07: Dilijan – Haghartsin – Sevan – Yerevan
Breakfast at hotel. Check-out. Short city tour of Dilijan.
Dilijan is a famous spa rich in curative mineral springs, some of which are comparable to those at Vichy in France and Davos in Switzerland. The surrounding mountains are covered by forests and Alpine meadows. The climate is rather mild with cool summers and warm sunny winters. Armenians believe that if there are woods, mountains and mineral springs in paradise, then paradise has to look like Dilijan. Haghartsin Monastery Complex. Haghartsin monastery, not far from Dilijan spa, is hidden from the tumult of the world. The monastery was built by the architect Minas in 1248 with lavish decorations of carved stone. The main church is typical of the churches built between the 10th and 13th centuries. The oldest church in the complex is with the cross-winged dome named after St. Gregory. The refectory of Haghartsin is also very unique in character. There is a number of very interesting khachkars in the complex. The monastery itself is situated within an oak forest, in the gorge of a small river. You can easily forget your worries when you are up there in nature surrounded by trees due to the beautiful setting of the Monastery Complex.
Overnight in Yerevan.
Day 08: Yerevan City Tour
Breakfast at hotel. Yerevan City tour:
Yerevan is the capital of Armenia and one of the oldest cities in the world. It stretches under the gaze of biblical mountain Ararat and resembles a beautiful gilt bowl to those flying over it. A basalt slab with an Urartu cuneiform inscription, unearthed by archaeologists in the south-eastern part of the city shows the age of Yerevan to be 2791 years old. "Mayr-Hayastan" (panoramic view of Yerevan), Matenadaran (Depository and Museum of Ancient Manuscripts). Street tour including Republic Square, Yerevan State University, Victory Bridge, Tsitsernakaberd (1915 Genocide Memorial), Sports & Concerts complex, Kiev Bridge, Parliament, Palace of President, Academy of Sciences, Opera house. State Museum of History of Armenia (founded in 1919).
Evening free or walking in the city centre.
Overnight in Yerevan.
Day 09: Yerevan – Echmiadzin – Zvatnots – Yerevan
Breakfast at hotel. Drive to St. Echmiadzin (Holy See). En route – Hripsime Church:
This is a masterpiece of architecture and a marvellous example of cross-cupola architecture of the 7th century. Weddings and baptisms are performed here on Saturdays and Sundays. Remnants of very old constructions were discovered under the temple in 1959 while the temple was being restored. Virgin's tomb lies here in the crypt of the church.
Cathedral of St. Echmiadzin (UNESCO World Heritage). Liturgy (on Sundays only).
This oldest Christian temple was founded in 301 and is one of the first churches in the Christian World. Holy Mass takes place on Sundays in the Cathedral. It is an architectural monument of early Christianity. It houses a unique museum of religious artefacts. There is a small altar in the centre of the Cathedral where, according to legend, Christ descended from Heaven and with a golden hammer pointed to the site upon which the Cathedral was to be built. The remnants of a pagan temple have been discovered during excavations made inside the Cathedral.
Return to Yerevan. En route – Zvartnots temple (UNESCO World Heritage).
Evening free. Overnight in Yerevan.
Day 10: Yerevan – Garni – Geghard – Yerevan
Breakfast at hotel. Half-day trip to Garni Pagan Temple and Geghard Monastery.
This pagan temple of Garni was built in 1st. c. AC and was devoted to one of the Armenian Pagan Gods – Mitra. After Armenia converted to Christianity in the 4th c., the rulers of the country used the temple as their summer residence.
Proceed to Geghard Monastery (UNESCO World Heritage): Geghard was initially known simply as Ayrivank (Cave Monastery). The present buildings comprising it date back to 10-13th cc., at which time it was renamed as Geghard meaning "lance" (spear) in Armenian. Return to Yerevan. Agricultural produce market and Vernissage (souvenirs, arts and crafts market). Evening free. Overnight in Yerevan.
Day 11: Departure
Transfer to Yerevan air port.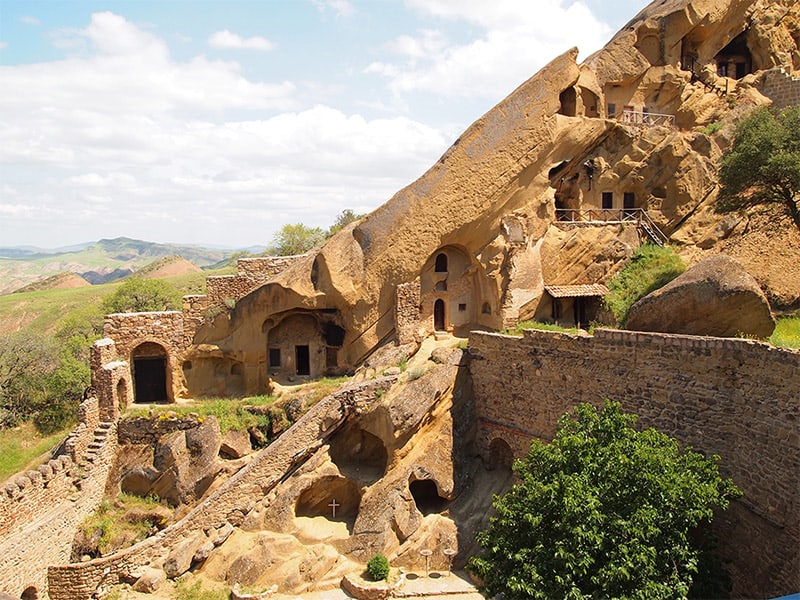 Ready for an adventure?
Your dream trip awaits to explore these captivating lands. Our dedicated and skillful specialists are here to provide you with the very best travel services.