Day 01: Flight to Yerevan
Arrival in Yerevan. Transfer to hotel. Accommodation. Use you free time for visiting the Vernissage Market in the City Centre – an arts and crafts open-air bazaar which opens only at weekends. You will find here different souvenirs, pictures, sculptures, traditional carpets and rugs and so on. Overnight in Yerevan.
Day 02: Yerevan – Echmiadzin – Zvartnots – Armenia Cognac Factory – Yerevan
Breakfast at hotel.
This tour includes UNESCO World heritages.
Heritage Sites which are "must see" places. Today you visit the religious center of Armenia – Echmiadzin which is the "Vatican" city of Armenia with the Holy See of the Armenian Apostolic Church where the Supreme Patriarch (Catholicos) of All Armenians resides. Armenia is the first Christian country in the world since 301A.D. and the world's oldest official Christian church is to be found in Echmiadzin – the Mother Cathedral of Echmiadzin. In the cathedral you can attend live the liturgy. Continue to St. Hripsime church (7th century), a true masterpiece of early medieval Armenian architecture. On the way back to Yerevan visit the Ruins of Zvartnots Cathedral – the place of "celestial angels". The remnants of Zvartnots, even in ruins, are a majestic sight. Evening free.
Return to Yerevan.
Visit to Armenia cognac factory with degustation Armenian brandy production was started in 1887 in Yerevan by the merchant and philanthropist Nerses Tairyan, who was the first to introduce classic French alcohol production technology in his factory. In 1998, the Yerevan Brandy Company became part of Pernod Ricard Group, the world's leader in the Premium spirits industry. Cherishing the traditions of Armenian brandy-making Pernod Ricard elevated them to a whole new level and gave ARARAT brandies new opportunities to develop on the international market.
Overnight in Yerevan.
Day 03: Yerevan – Khor Virap – Noravank – Areni Wine Village – Yerevan
Breakfast at hotel.
A fantastic tour dedicated to exploration of Southern Armenia combining the magic of Armenia's finest medieval architecture with stunning landscapes by driving through the agricultural heart of Armenia. Our first stop will be at the Khor Virap Monastery – the most important place of pilgrimage of Armenia. St. Gregory the Illuminator – the first Catholic of all Armenians, had been imprisoned in "Khor Virap" (deep dungeon) for 13 years. From here you get a unique view of the holy Armenian mountain Ararat (5165m.), on which (according to the Bible) Noah's ark landed after the World flood.
As soon as we pass the Ararat Plain we can experience the untamed beauty of Southern Armenia – surreal red rocks providing an eerie echo, honey-colored villages sandwiched between them. Continue to the previous residence of Syunik's bishops – Noravank monastery, nestled at the edge of the narrow gorge in the impressive mountainous landscape with peculiar red hanging rocks. The structure distinguishes by a unique harmony of architectural forms and decorations.
On the way back to Yerevan visit to the winery in the village Areni, wine tasting made from the endemic grapes.
Return to Yerevan. Evening free. Overnight in Yerevan.
Day 04: Yerevan City Tour – Noah Wine Factory
Breakfast at hotel.
Yerevan is one of the most ancient cities in the world founded in 782B.C.
Now Yerevan is a vibrant and modern European city with much to offer.
In the morning you visit the Matenadaran (UNESCO World's Documentary Heritage) – Depository of Ancient Manuscripts and a serious Institute of Scientific Research on Ancient Manuscripts.
The collection of approximately 17,000 manuscripts includes almost every sphere of Armenian ancient and medieval science and culture – history, geography, philosophy, law, medicine, mathematics, miniature and others, as well as manuscripts in Arabic, Persian, Greek, Syrian, Latin, Ethiopian, Indian, Japanese, etc. Afterwards you can see the most beautiful panorama of Yerevan City and the biblical Mount Ararat from the top of huge Cascade Monument. Cascade is just a masterpiece in terms of architecture and is decorated in a very stunning way. Inside this monument you find the Cafesdjian Art Center. There are a lot of original statues of modern art. Not far from Cascade you see the Mother Armenia Statue, which symbolizes "peace through strength". Having its location on a hill overlooking Yerevan City, makes her "The Guardian "of the Armenian Capital.
During your City tour you pass through the Northern Avenue which connects the two Yerevan Famous Squares – The Republic Square and the France Square (where Opera House with the original statue of Rodin is located). The Republic Square in Armenia with the governmental buildings is considered to be one of the most beautiful squares of the world. In the night, the square is especially beautiful because of the "Dancing Fountains" accompanied with classic music of world known Armenian components.
Street tour including: Yerevan State University and the Island of universities, Victory Bridge, Tsitsernakaberd Hill (The Swallow Castle) with Genocide Museum, Sports & Concerts complex, Kiev Bridge, Parliament, Residence of President, Academy of Sciences. Visit to NOAH cognac-wine-vodka factory with degustation.
Yerevan Ararat – Brandy – Wine – Vodka Factory is situated in Hrazdan Gorge, one of the most picturesque places of Armenia. In the 16th century Erivan Fortress was build on this sight by Persian Farhad Pasha. All this area occupied most part of town and used to be cultural and domestic sight. Commodity and vegetable markets, bath-houses, crafts stalls and the mint were all located here.
In 1877 he established here a wine making factory.
Evening free. Overnight in Yerevan.
Day 05: Yerevan – Dilijan – Lake Sevan – Tsakhadzor – Yerevan
Breakfast at the hotel.
Tour to the Dilijan town in the Dilijan National Park, a protected area renowned for its serene lakes, picturesque hill trails and peaceful villages. Many poets used to say, "If there are woods, mountains, streams and mineral waters in paradise, it must be like Dilijan". Due to its forested mountains and mild climate, Dilijan is named "Armenia's Little Switzerland".
On the most beautiful and oldest streets of the Old Dilijan – Sharambeyan you will find small art schools and souvenir shops. Continue to Haghartsin Monatsrey (10.-14. cc.), a fairy-tale monastery set amidst flower-filled.
Proceeding to Lake Sevan– the 2nd largest fresh-water high-altitude lake in the world after Titicaca (Los Andes, Bolivia) and the largest lake in Armenia and the Caucasus Region. Lake Sevan, this wonder of nature, is the pearl of incomparable beauty with stunning turquoise waters which is also home for unique bird species
On the picturesque peninsula you visit the Sevanavank monastery (9c), which once used to serve as a place of exile of the Armenian nobility. Here you find unique cross stones (khachqar). The Cross-Stone is a typical manifestation of the Armenian culture, as other nations do not have this type of culture, and is already a UNESCO World Heritage.
Proceed to Tsakhadzor. Tsakhkadzor is one of the favorite holiday resorts of Armenia both for summer and winter. This district is considered to be Armenian Switzerland. Tsakhkadzor is a place where one can have a good vacation during all seasons of year. This is a perfect place to admire the beauty of Armenian high mountains and fields with the largest variety of flowers. In winter this is the best place for skiing. Tsakhkadzor is also known for its old churches. Recently renovated Kecharis monastery (11-13th c.) is located here.
Return to Yervan. Overnight in Yerevan.
Day 06: Yerevan – Garni – Geghard – Yerevan
Breakfast at hotel.
Just outside of Armenia's capital, a quiet mountain road leads high above the city, offering a glimpse into Earth's ancient history. Firstly we stop first at Charent's Arch – the breathtaking lookout point of the biblical Mount Ararat (known from the Bible as the landing place of Noah's Ark). Drive to the Geghard Monastery carved out of a huge monolithic rock. Geghard is an incredible ancient Armenian monastery, partly carved out of a mountain. It is said that the Holy Lance that pierced the body of Christ was kept here. The architectural forms and the decoration of Geghard's rock premises show that Armenian builders could not only create superb works of architecture out of stone, but also hew them in solid rock. It is included in the list of UNESCO World Heritage Sites. Continue to the Garni Pagan Temple, the only Hellenistic temple in the Caucasus. Gracing the hillside the temple was dedicated to the God of Sun, Mithra and comprises also royal palace ruins, Roman Baths with a well preserved mosaic.
Master class of traditional Armenian bread "lavash" being baked in tonir (ground oven). The preparation, meaning and appearance of traditional bread as an expression of culture in Armenia has been inscribed on UNESCO's Representative List of the Intangible Cultural Heritage of Humanity.
Drive back to Yerevan. Evening free. Overnight in Yerevan.
Day 07: Yerevan – Saghmosavank – Armas Winery – Yerevan
Breakfast at hotel.
Tour to Saghmosavank monastery. 5 km far from Hovhanavank monastery on the edge of Kasakh river canyon, in the 13th century Vachutian dukes built Saghmosavank monastery. The main church is adjacent to the scriptorium, where many manuscripts have been produced during centuries. Saghmosavank underwent the devastating influence of the earthquake in 1988. The reconstruction comleted in 2000 returned the church its beauty and glory.
Tour to Armas Wine Factory.
Golden Grape ArmAs was founded in 2007 by Armenak Aslanian, who repatriated to his motherland for the realization of goals that involve the intertwined aspects of family, heritage, culture, and progress, with personal values and responsibilities he maintains as a father, an entrepreneur, and as an Armenian. Alongside his daughters, he preserves an 80-year-old family tradition of wine, naming ArmAs in honor of his grandfather Armenak Aslanian Sr., the original winemaker in the family. He continues to develop ArmAs Estate with a vision to partake in upholding and revitalizing Armenia's winemaking legacy, in the oldest known area for viticulture and enology.
Drive back to Yerevan. Evening free. Overnight in Yerevan.
Day 08: Departure
Check-out. Transfer from hotel to the airport.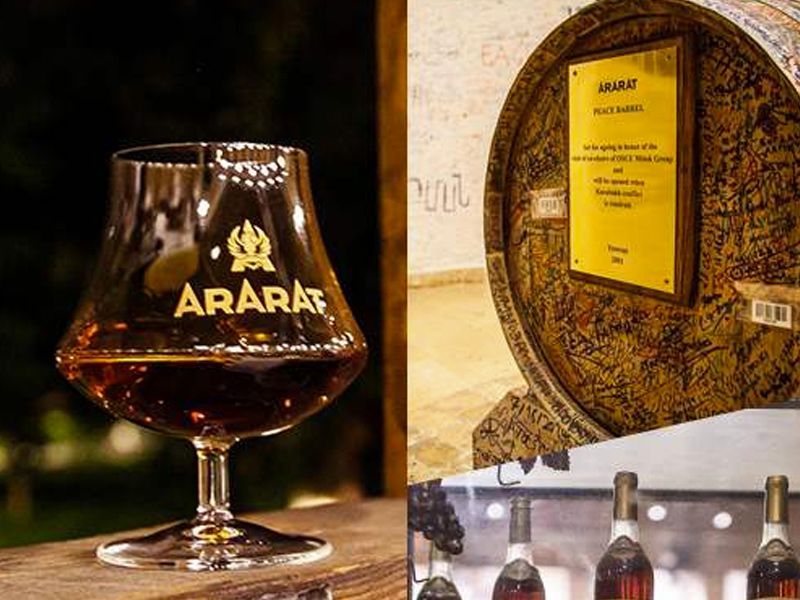 Ready for an adventure?
Your dream trip awaits to explore these captivating lands. Our dedicated and skillful specialists are here to provide you with the very best travel services.