Pilgrimage tour to Ancestral lands
Pilgrimage tours to Anatolia or historic Armenia have been for a longtime forbidden territory for travelers of Armenian descent. Due to political and geographical obstacles, as well as a lack of infrastructure to welcome large numbers of tourists, escorted tours to these lands, rich of cultural, religious and architectural treasures have been very rare in the past.
Recently there has been a great deal of effort in making eastern Anatolia an attractive destination for tourists. New hotels have been built and old ones renovated and the government in Turkey has taken extra steps to make the area safe and the roads comfortable for travelers.
As an experienced leisure tour operator we have taken every measure to make this historical trips enjoyable and memorable for our clients. One such example is the use of AC coach buses for our tours. The latter will be offered three times a year , spring, summer and fall for small groups of interested individuals or organizations. We also have used the best available hotels in each city or village where the group will overnight.
Finally, we hope you will join us in visiting the ancestral home of your parents and grandparents and witness in person the marvels offered by Armenian kings, religious leaders , architects and the people who lived on these lands for centuries.
Day 01: Istanbul
Arrival in Istanbul; Transfer to hotel, check in; Visit Armenian Patriarchies.
Day 02: Istanbul
Istanbul city tour; Visit to St. Sophia & Blue Mosque.
Day 03: Istanbul - Adana
Departure to Adana; Hotel accommodation; Trip to Tarsus; Return to Adana city tour of old Armenian quarters.
Day 04: Adana– Antakya(192 KM)
Departure to Antakya; Stopover at Dortyol; Proceed to Antakya; Hotel check in; Visit Antakya Museum (2nd largest mosaic museum of the world); Visit Vakifkoy (Musaler) to see the Armenians living there the Armenian church & cemetery; Return to Antakya.
Day 05: Antakya – Gaziantep (Aintap) (200 km)
Departure from Antakya; Arrival and check in at Gaziantep; City tour of old Armenian quarters and the church; Return to hotel and overnight in Gaziantep.
Day 06: Gaziantep – Malatya (247km) – Elazig (Kharpert) (101km)
Departure for Kharpert; Stopover in Malatya; Visit to the Armenian Church; Proceed to Kharpert; Kharpert City Tour; Overnight in Elazig.
Day 07: Elazig – Mush (254 km)
Departure for Mush; Visit Msho Sultan Surp Garabed Vank.
Day 08: Mush_– Akhtamar (180 km) – Van (50km)
Departure for Akhtamar; Boat trip to Akhtamar island; Visit the Church of Holy Cross; Proceed to Van; Overnight in Van.
Day 09: Van
Departure for Varaka Vank; Visit the Castle of Van; Van Museum and City Tour. Overnight in Van.
Day 10: Van – Dogu Beyazit (172 km) – kars (195 km)
Departure for Dogu Beyazit; Stopover at Muradiye (Pergi) waterfalls; Proceed to Dogu Beyazit; Visit to Ishak Pasha Palace; Departure for Kars; Arrival at Kars. Overnight in Kars.
Day 11: Kars
Visit to Arakelots Church and Castle of Kars; Ruins of Ani. Overnight in Kars.
Day 12: Kars – Istanbul
Transfer to airport; Departure to Istanbul, arrival and hotel check in. Overnight in Istanbul.
Day 12: Istanbul - USA
Transfer to airport. Departure to USA.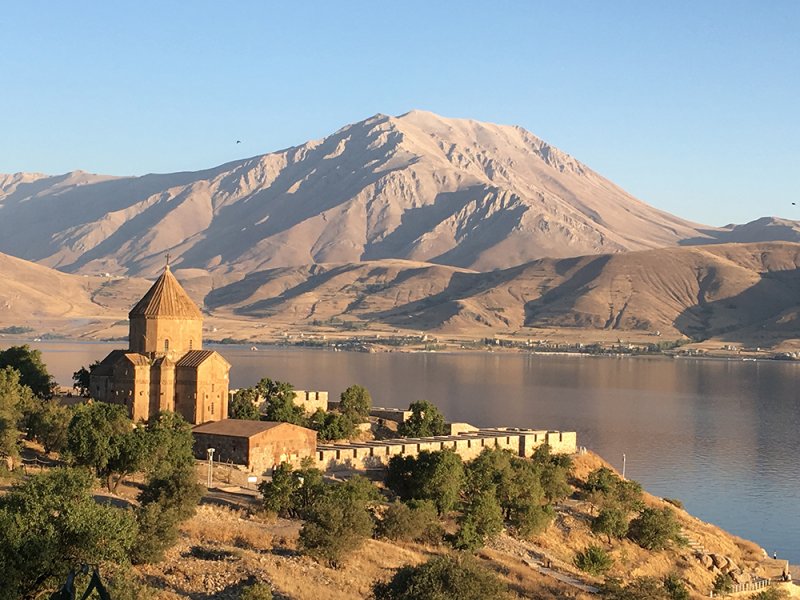 Tour Size: 20 - 40 Passengers
Occupancy: Double or Single
Meals: Full Board; Breakfast, Lunch and Dinner Included
Transportation: Full Transportation, Transfer Included
Ready for an adventure?
Your dream trip awaits to explore these captivating lands. Our dedicated and skillful specialists are here to provide you with the very best travel services.