Hawaii, is an isolated volcanic archipelago in the Pacific. A paradise of green-carpet valleys, emerald mountains and an ocean as blue and deep as the sky. Its islands are renowned for their rugged landscapes of cliffs, waterfalls, tropical beaches with gold, red, black and even green sands. Of the 6 main islands, Oahu has Hawaii's biggest city and capital, Honolulu, home to crescent Waikiki Beach.
the captivating island of Maui
Travel to the captivating island of Maui to experience a world-class resort destination offering some of the world's most spectacular beaches, championship golf, and a fabulous variety of shopping and dining options. The west side of the island includes the gorgeous resort community of Kapalua, the smaller resort areas of Napili and Kahana, and popular Kaanapali Beach area. Further south, the quaint and historic whaling village of Lahaina is a lively town with shops, art galleries, excellent restaurants, and accommodations. To the south, discover the beautiful Kihei Coast and the luxurious resort area of Wailea. Nestled at the base of Haleakala, the largest dormant volcano on earth, Wailea is distinguished by its five beautiful, crescent-shaped beaches. The second largest Hawaiian Island has a smaller population than you would expect, making Maui popular with visitors who are looking for spontaneous moments and sophisticated diversions in the small towns and airy resorts spread throughout the island. From the scenic slopes of Upcountry Maui to beaches and golf courses that are among the world's best, a visit to the 'Magic Isle' recharges the senses.
Oahu : Fusion of east and west
Oahu is a unique fusion of city and country, American and Polynesian, modern and historic. The third largest Hawaiian island is home to the majority of Hawaii's diverse population; a fusion of east and west cultures rooted in the values and traditions of the native Hawaiian people. It is this fundamental contrast between the ancient and modern that makes discovering Oahu so enjoyable. Here the blue waters of Kailua Beach meet the metropolitan cityscapes of Honolulu. The historic architecture of Iolani Palace meets the timeless memorial of Pearl Harbor. The big city of Waikiki meets the small town of Haleiwa on the North Shore. Whether you're hiking atop iconic Leahi (Diamond Head) or simply unwinding on the sands of the island's beautiful beaches, you will find variety at every turn on the energizing island of Oahu, the Heart of Hawaii. 
Waikiki
Waikiki is an exclusive, world-class resort area and the pulse of the island.
Kahala
Kahala is pristine and secluded yet close to Oahu's most popular attractions.
The North Shore
Home to charming towns and the Banzai Pipeline, the North Shore is a surfer's paradise.
Ko Olina
Just thirty five minutes from Waikiki, discover the rural towns and luxurious beach resorts of Ko Olina.
Hawaii: The Big Island
It's easy to feel small on Hawaii, the Big Island. From the molten magma flowing from Hawaii Volcanoes National Park to the snow-capped heights of Maunakea; from the green rain forests of the Hamakua Coast to the jet-black sands of Punaluu Beach; Hawaii, the Big Island is an unrivaled expression of the power of nature. The dramatic size and scope of the largest Hawaiian Island creates a microcosm of environments and activities. All but two of the world's climate zones generate everything from lush rain forests to volcanic deserts, snow-capped mountaintops to black sand beaches. In fact, Hawaii is the only U.S. state that's still growing – Hawaii, the Big Island is expanding by over 42 acres per year, thanks to Kilauea Volcano. On this island's vast tableau, you'll find everything from extravagant resorts and incredible golf courses to modest local towns and sacred Hawaiian historical sites. Visit the birthplace of King Kamehameha I and Hawaii's first missionary church in Historic Kailua Village. With so much to see, it's best to experience the island in small pieces. There's plenty of room on the awe-inspiring Big Island to explore on your return.
Kohala Coast
World-class resorts and golf courses are nestled amongst black and rust lava rock fields.
Kailua-Kona
A historic town and bustling gathering place with 60 miles of coastal waters.
Hilo
This lush and vibrant town is home to an airport, great museums, art galleries, and shops.
Celebrate your wedding on Hawaii's Big Island!
KAUAI : The Garden Island
On the peaceful, lush, and naturally spectacular island of Kauai with its endless shades of greens and blues, you're sure to be rejuvenated and re-discover your primal connection with nature. Centuries of growth have formed tropical rainforests, forking rivers and cascading waterfalls on the "Garden Isle." The Napali Coast, Waimea Canyon, and Fern Grotto are spectacular geological wonders. The Island's laid-back atmosphere and rich culture found in its small towns make it truly timeless.
East Side – Coconut Coast
Kauai's East Side is sometimes referred to as the Coconut Coast. Amongst the clusters of coconut trees you'll find historic places, amazing beaches, and memorable attractions. In Wailua, enjoy a variety of sightseeing opportunities and outdoor activities. Kayak the Wailua River in Wailua River State Park, take a boat ride to the Fern Grotto, or take photos at Opaekaa Falls. And be sure to visit Kapaa Town to discover fine Hawaiian craft pieces, aloha-print shirts, jewelry, and art. Lihue is the government and commercial center of the island as well as a cultural and historical area and home to Kauai's main airport (the Lihue Airport) and Nawiliwili Harbor, the island's major commercial shipping center and cruise ship port.
Po'ipu Beach
Numerous beaches, oceanfront resorts, a quaint village area, an upscale shopping district, and the wonders of nature are some of the rewards you'll enjoy on Po'ipu's stretch of sunshine. In addition, scenic coastlines, walking trails, waterfalls, and picture-perfect golden-sand beaches make it a perfect spot to stay. Kayaking, golfing, and snorkeling are among some activities all ages can enjoy. Other fun activities such as surfing, scuba, windsurfing, scuba, or just sunbathing are ideal at any of the sunsoaked beaches. Po'ipu's beaches are also a hot spot for the endangered Hawaiian monk seals to relax.
Princeville and West Side
Kauai's magnificent North Shore provides the perfect setting for Princeville, situated among the lush, green sea cliffs that tower over the picturesque Hanalei Bay and just minutes from the world-famous Napali Coast. Princeville is an exquisitely designed ocean-view resort community simply known as "Magnificent By Nature." Kauai's West Side is defined by nature and scenery on a grand scale. From the laidback town of Waimea to the enormous drama of Waimea Canyon, this stretch of shore, road, and parkland includes some of the Island's most memorable sights and stunning panoramas.
LANAI : The Pineapple Island
The Pineapple Island
The romantic island of Lanai is a destination of untouched tranquility. Relax and rejuvenate in the peaceful seclusion of "Hawaii's Most Enticing Island." Two high-caliber courses at the luxurious Four Seasons Resorts make Lanai a mandatory stop for golfers. Enthralling sights like the lunar landscapes of the Garden of the Gods and the iconic Sweetheart Rock are distinctly unique to Lanai. Removed from the pressures of the outside world, Lanai is an island where relaxation is accompanied by the pleasures of the good life.
Molokai : The Spirit of Hawaii
Experience serenity on Molokai, where you won't find fancy shops, big resorts, commercial luaus, or many tourists. Uncrowded and undeveloped, this country town/island practices ancient and authentic Hawaiian tradition. "Hawaiian by Nature," Molokai is a timeless place where no building is taller than a coconut tree, and you won't find a single traffic light! Whether you come for a quiet escape or for outdoor adventures, you're sure to fall in love with this undiscovered island.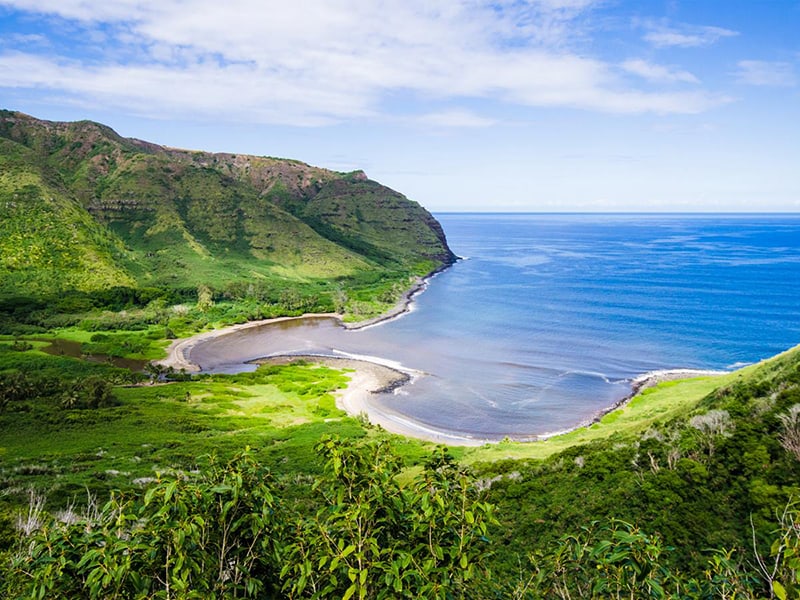 Ready for an adventure?
Your dream trip awaits to explore these captivating lands. Our dedicated and skillful specialists are here to provide you with the very best travel services.